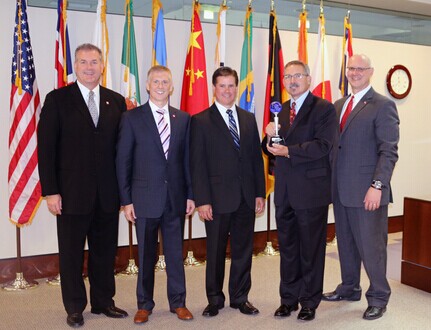 Caption Image 1: David C. Dauch – Chairman and CEO of AAM (left); Jake Stiteler – Executive director, Global Procurement, AAM (left center); Jim Seta – Global Vice President Automotive Bearing Sales, SKF (middle); Gregg Rasmussen – President Automotive Sealing Solutions, SKF (right center) and Michael J. Lynch – Vice President, Driveline Business Performance & Cost Management, AAM (right)
Gothenburg, Sweden, 19 July 2016: SKF has received an American Axle & Manufacturing (AAM) Supplier Recognition Award for the contribution its specialised bearings and seals have made to the firm's success. Accepting the global accolade for the first time, SKF was one of three companies to be honoured as part of AAM's 22nd Annual Supplier Day at its headquarters in Detroit, Michigan.
SKF was selected to receive the award for its outstanding quality products, technology leadership, customer service and cost competitiveness. It currently supports AAM globally with multiple types of seals and bearings included in driveline and drivetrain systems for multiple product families.
Jake Stiteler, executive director, Global Procurement for AAM, who presented the award to SKF, said: "AAM's supplier community plays a critical role in our mission to provide our customers with high-quality, highly advanced products. SKF played a key part in AAM's success over the last year and we will continue to look to them and our other suppliers to help us exceed our customers' expectations in the future."
Stiteler added that SKF had differentiated itself from the rest of the suppliers and highlighted as an example its prompt yet effective delivery of a unitized seal for a power transfer unit, developed by SKF China in just three months, meeting the requirements of a challenging application.
Gregg Rasmussen, President Automotive Sealing Solutions at SKF, said: "We are honoured to receive this global award for the first time and it is an excellent testament to the hard work we have put into making the partnership with AAM an extremely successful one. We look forward to continuing to build on that relationship to further support AAM in serving its customers and meeting its business objectives."
Aktiebolaget SKF
(publ)
For further information, please contact:
Press Relations: Sabine Hergenröder, +46 31 337 6418, +46 705 77 6418; sabine.hergenroder@skf.com
SKF is a leading global supplier of bearings, seals, mechatronics, lubrication systems, and services which include technical support, maintenance and reliability services, engineering consulting and training. SKF is represented in more than 130 countries and has around 17,000 distributor locations worldwide. Annual sales in 2015 were SEK 75 997 million and the number of employees was 46 635. www.skf.com
® SKF is a registered trademark of the SKF Group.
(SKF)